Welcome to Al-Anon Family Groups District 22 – Lancaster/Lebanon.  Below you will find some information about district events, as well as Al-anon in general.  Feel free to contact us via email: [email protected]
To the Potential Newcomer,
You are welcome at any meeting.  Your inquiry and attendance at meetings are confidential and anonymous.  Whether the alcoholic is still drinking or not, Al-Anon offers hope and recovery to all people affected by the alcoholism of a loved one or friend
"The Al-Anon Family Groups are a fellowship of relatives and friends of alcoholics who share their experience, strength, and hope, in order to solve their common problems. We believe alcoholism is a family illness, and that changed attitudes can aid recovery."
https://al-anon.org/newcomers/
Monday night, Willow Street, Heart to Heart
July, 29 speaker meeting 
Annual District 22 AFG Picnic, September 7,
Volunteers needed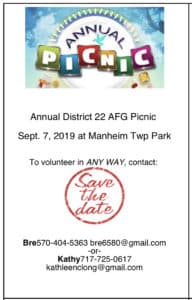 Sept. 7, 2019 at Manheim Twp Park
volunteers needed!  Contact
Bre 570-404-5363 [email protected]
-or-
Kathy 717-725-0617 [email protected]
Pennsylvania TEAM Event — Save the Date @ Church on the Mall
Sep 28 @ 9:00 pm – 4:00 pm
All NEW!!
Friday at 5:30 pm
 Fearless & Free Alateen
St Peter's United Church of Christ
816 Buchanan Ave., Lancaster