Welcome to Al-Anon Family Groups District 22 – Lancaster/Lebanon.  Below you will find some information about district events, as well as Al-anon in general.  Feel free to contact us via email: [email protected]
To the Potential Newcomer,
You are welcome at any meeting.  Your inquiry and attendance at meetings are confidential and anonymous.  Whether the alcoholic is still drinking or not, Al-Anon offers hope and recovery to all people affected by the alcoholism of a loved one or friend
"The Al-Anon Family Groups are a fellowship of relatives and friends of alcoholics who share their experience, strength, and hope, in order to solve their common problems. We believe alcoholism is a family illness, and that changed attitudes can aid recovery."
https://al-anon.org/newcomers/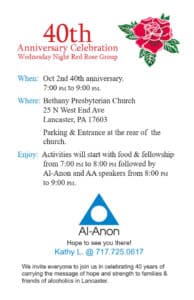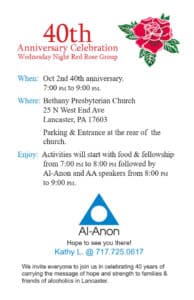 click for flyer: New Alateen Meeting
Pennsylvania TEAM Event —
Click for more info – Team Event Registration  
Sep 28 @ 9:00 pm – 4:00 pm
NO MEETING:
September 10 or 17 for the Tues AM (9:30-10:30) Marietta AFG 
All NEW!!
Friday at 5:30 pm
 Fearless & Free Alateen
St Peter's United Church of Christ
816 Buchanan Ave., Lancaster